A brilliant cities report: green infrastructure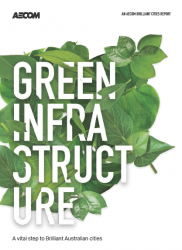 27/04/2017
Global company AECOM has released their latest research focussed on Sydney suburbs Blacktown, Willoughby and Annandale and estimates a 10% increase in the leaf canopy of street trees could increase the value of properties by an average of $50,000.
"Local governments are becoming more conscious of the benefits of street trees, as research finds tree canopy in the urban environment has important cooling and air filtering effects, as well as amenity", said the report's co-author Roger Swinbourne.
For instance they found that streets with 28 per cent canopy coverage in Annandale were 4 degrees cooler than streets with 20 per cent canopy coverage.
"One of the key findings in the report is that there's a real disconnect between the owners of the cost and the owners of the value of street trees," Mr Swinbourne said. "All the value is to the broader community and all the costs and risks to an extent are borne by the agencies - utilities, councils."
He said there is still a significant net benefit to the community of enhancing street tree coverage.
"There needs to be more of a shared value approach to account for those benefits and offset those risks."
For more information visit the A brilliant cities report: green Infrastructure