Accelerate your transition to a Water Sensitive City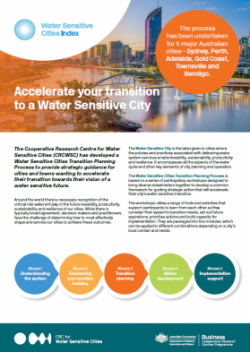 11/09/2018
The Cooperative Research Centre for Water Sensitive Cities (CRCWSC) has developed a Water Sensitive Cities Transition Planning Process to provide strategic guidance for cities and towns wanting to accelerate their transition towards their vision of a water sensitive future.
The Water Sensitive City is the label given to cities where the policies and practices associated with delivering water system services enable liveability, sustainability, productivity and resilience. It encompasses all the aspects of the water cycle and other key elements of city planning and operation.
The Water Sensitive Cities Transition Planning Process is based on a series of participatory workshops designed to bring diverse stakeholders together to develop a common framework for guiding strategic action that will accelerate their city's water sensitive transition. The workshops utilise a range of tools and activities that support participants to learn from each other as they consider their system's transition needs, set out future aspirations, prioritise actions and build capacity for implementation. They are packaged into five modules, which can be applied in different combinations depending on a city's local context and needs.
The WSC Transition Planning Process incorporates several tools and products developed by the CRCWSC, including:
The Water Sensitive Cities Index to benchmark a city's current water sensitive performance
The Transition Dynamics Framework to diagnose the presence or absence of enabling factors that are needed for a city's transition to new water sensitive practices
Envisioning process to develop a shared water sensitive city vision
Community engagement strategies to help bring the community along the water sensitive transition journey
Benefits to stakeholders who undergo this process include:
In-depth discussions to develop a shared understanding of issues and aspirations across diverse stakeholders who need to collaborate in order to drive water sensitive city transitions
Influence over the development of a local transition strategy that will steer the future directions for water and planning initiatives
Improved capacity to implement a range of strategies and actions focused on building up the conditions that will enable a city's water sensitive transition
Tools and products to strengthen strategic planning for achieving long-term water sensitivity
For more information visit the CRCWSC website.