Blue + Green = Liveability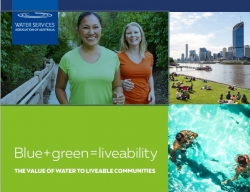 16/10/2019
The Water Services Association of Australia's (WSAA) recent publication Blue + Green = Liveability promotes planning for green and blue infrastructure to unlock improved liveability outcomes.
The report cites the commitment in the water industry to taking action and calls on Australian and New Zealand governments on all levels to collaborate by take leadership to enable green and blue infrastructure to deliver liveability outcomes for cities and regions by:
Harnessing the full water cycle with all water supply options on the table and by coordinating the incorporation of stormwater
Integrating our approach to planning
Implementing an effective framework for measuring health and liveability benefits
Creating new funding and financing models for green and blue infrastructure as social infrastructure.
To view the full report visit the WSAA website.