Greening the West - Case study report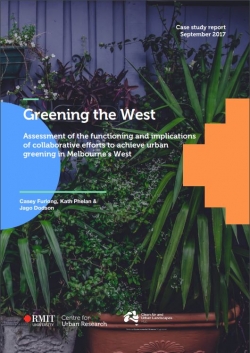 30/10/2017
Assessment of the functioning and implications of collaborative efforts to achieve urban greening in Melbourne's West
Greening the West (GTW) is a regional initiative aimed at increasing urban greening, particularly the number of trees, in Melbourne's western municipalities of Brimbank, Hobsons Bay, Maribyrnong, Melton, Moonee Valley and Wyndham.
This report contains information on: the functionality of the Greening the West initiative, its challenges, factors for success, achievements, areas for improvement, future directions, and implications for other current initiatives.
The report details the findings of academic research undertaken by RMIT University, as part of a broader research program considering collaborative approaches to improving urban greening and liveability in Melbourne.