Integrating Green & Grey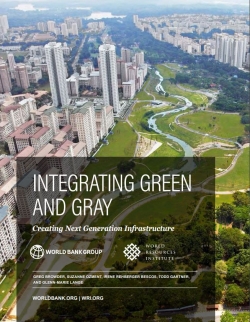 13/05/2019
Creating Next Generation Infrastructure
Natural systems such as forests, floodplains, and soils can contribute to clean, reliable water supply and protect against floods and drought. In many circumstances, combining this "green infrastructure" with traditional "gray infrastructure," such as dams, levees, reservoirs, treatment systems, and pipes, can provide next generation solutions that enhance system performance and better protect communities.
This report, prepared through a partnership between the World Bank and the World Resources Institute, illustrates how emerging technology such as earth-based observations and advanced modelling make it cheaper and easier to design and assess the performance of green infrastructure. It also lays out a new framework for practitioners and service providers to integrate green infrastructure into gray, including technical, environmental, social, and economic dimensions.
To download the full report, visit worldbank.org/water.