State of the Yarra and its Parklands 2018 Report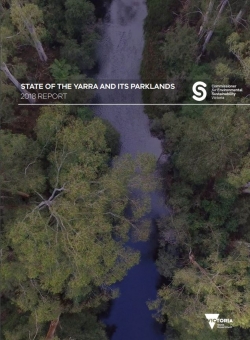 01/04/2019
The State of the Yarra and its Parklands 2018 report released by the Commissioner for Environmental Sustainability last month, assesses the condition of the Yarra River corridor using 36 indicators. It found pollution, litter and invasive species amongst the greatest threats to its health.
The report provides a strong scientific evidence base, as well as a narrative that links environmental condition to cultural, social and economic aspirations for a healthy and flowing Yarra River. The report also links the targets with UN Sustainable Development Goals.
The summary of recommendations table provides a snapshot of the challenges addressed by the recommendations organised by theme.
In addition to evaluating environmental condition, future reports will also report on the key objectives of the Yarra Strategic Plan (due for release in 2019).