The performance of turf grass species in ZAM-WSUD stormwater biofilters report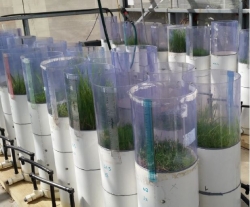 21/05/2018
Beginning in 2015, Manningham City Council, in partnership with Melbourne Water and the CRC for Water Sensitive Cities, has been testing novel stormwater biofiltration systems that aim to require no more than typical council maintenance works (i.e. 'Zero Additional Maintenance' (ZAM) WSUD systems).
This report details the recent trial of five different lawn grass species, tested for their survival and growth in the field, and outlines how different site conditions require different lawn grass species to best suit the environment.
The supporting ZAM-WSUD handbook (2018 edition) also provides an overview of the project led by Simon Brink from Manningham City Council and includes practical details and design plans, and the results from this report.
For more information, please contact Simon Brink from Manningham City Council simon.brink@manningham.vic.gov.au