Victorian Civil Contractors Federation (CCF) 1% Industry Training Allowance report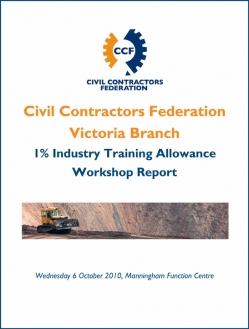 18/11/2010
The 1% Industry Training Allowance is a policy proposal developed by the Victorian Civil Contractors Federation (CCF) to address the increasing skills shortage in the Civil Construction Sector. In essence, all State and Local Government infrastructure tenders in excess of $100,000 would dedicate 1% of the total project cost to training and skills development. Companies tendering for the contract would need to include a detailed plan of how the 1% is to be spent as a mandatory component of the tender process.
The CCF is currently exploring the opportunities with the water and local government sector to trial the concept on a number of urban stormwater infrastructure projects. A trial project like this would contribute to building contractor skills in installing and maintaining water sensitive urban design assets. This initiative would help address an increasing demand for skilled and knowledgeable contractors in the water sector.
The CCF has been actively campaigning across State and Local Government in Victoria for the Introduction of an Industry Training Allowance. This is the report from the first Industry workshop held in October 2010 to inform industry stakeholders and further develop the concept.