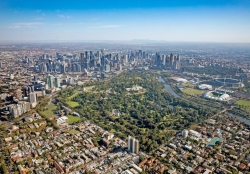 Best practices in planning for urban resilience and liveability: lessons from Australia and beyond
Monday 16th Aug 2021 1:00PM - 2:30PM
Online - Zoom

Overview
Melbourne Water and DELWP recently launched City Planning Prioritisation : A review of practices and enablers for multi-stakeholder planning for resilient and liveable cities. The report examines decision making processes and planning enables in 6 cities seen to be exemplars for liveability and resilience.
This event will explore highlights from the City Planning Prioritisation report and feature additional speakers from Melbourne Water, Sydney Water and City of Melbourne to share the frameworks and tools they are applying for resilience and IWM.
Priyani Madan & Joan Ko / ARUP: Lessons from international exemplars in innovative planning
Kate Berg & Candace Jordan / City of Melbourne: Building disaster resilience and managing community impacts
Phillip Birtles / Sydney Water: Stakeholder planning insights from Western Growth corridor
Claire McAuliffe / Melbourne Water / Melbourne Water : Applying resilience methodology in infrastructure planning
The short presentations will be followed by a facilitated Q & A with the panel.
Insight you will gain from this workshop:
How you can get started and apply frameworks in your projects for local government and regional planning
How to get engagement and support when applying innovative new planning frameworks
How these tools will help your organisation become more proactive instead of reactive to stresses and shocks
Target Audience:
Local Government, Water Utilities, Urban Planning practitioners, members of the DELWP metro and regional IWM forums
RSVP
This is a partnership event with Melbourne Water and has been made available at no cost to attendees. However you are required to register and make a commitment to attending on the day to assist with planning the event.
Enquiries:
PH: 03 9679 7711