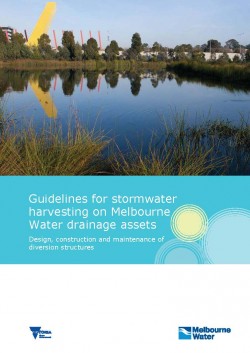 Melbourne Water Stormwater Harvesting Guidelines Seminar
Thursday 6th Oct 2016 1:30PM - 3:00PM
Melbourne Water
990 La Trobe St, Docklands, 3008
Registrations are now closed
Overview:
The Melbourne Water Stormwater Harvesting guidelines are designed to provide applicants and practitioners with guidance on requirements for stormwater harvesting schemes on Melbourne Water assets. The guidelines cover recommended options for the design, construction, operation and maintenance of diversion structures.
By the end of this session you will:
Have an overview of rules and principles of the technical guidelines
Have clarity on the MWC requirements for the license applicants
Understand the rationale behind environmental and maintenance flow requirements associated with stormwater harvesting from MW assets
Be familiar with the standardised options developed
Audience:
This seminar has been organised for Local Government and Industry practicioners involved in planning, design, construction, operation and maintenance of stormwater harvesting within Melbourne Water jurisdiction.
Workshop presenters:
Tim Donovan (Melbourne Water)
Iouri Vaisman (IVWater Pty Ltd)
Cheryl Edwards (Melbourne Water)
RSVP Enquiries
Registrations close Friday 30th September (early registration appreciated)
Enquiries
This is a partnership delivery with Melbourne Water