Clearwater Regional IWC Scholarship Opportunity: Calling for regional participants wanting to advance their career in IWM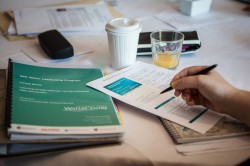 25 October 2016
As part of Clearwater's new Regional initiative
,

we are excited to be offering 3 x full scholarships to regional participants to undertake the International Water Centre (IWC) Water Leadership Program.
Program details
This prestigious 9-month learning program supports emerging leaders to develop the abilities they need to exert influence, drive change and advance integrated water management projects. The strong research and theoretical foundation is regularly reviewed by industry leaders, and participants will receive mentoring and guidance from experienced water industry executives.
The Leadership program is a mix of online training and discussion forums and two face-to-face intensives based in Brisbane (February and July). Clearwater will be offering 3 x Full scholarships (valued at $11,500 each): recipients will not have to pay the course fee (valued at $9,500 excluding GST). In addition, participants will be provided with a $2,000 allowance at the start of the program to cover any expenses associated with participating in the face-to-face sessions in Brisbane (e.g. travel and accommodation).
For further details, check out our brochure and apply directly on the IWC website.
Audience
We are calling out to participants in regional Victoria already working in the area of Integrated Water Management or Stormwater Management. You may be new to your role or only have water management as part of your position but if you are passionate about this area and love the idea of providing leadership for your organisation, this scholarship may be for you.
Testimonial from past participant
Participating in this program increased my self-confidence and as a result my preparedness to take on leadership roles and challenges has grown. The Program enabled me to better understand myself and how I can leverage my strengths and manage my weaknesses as a leader.
Simon Hermans- Branch Manager Asset Creation (now General Manager Assets at Wannon Water)
Applications
Applications for the Clearwater scholarship need to be submitted on the IWC website by November 9, 2016. Get in quick!