Draft 'Integrated Water Management Framework for Victoria' released for comment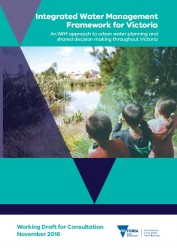 24 November 2016
The Victorian Government has released the Draft Integrated Water Management Framework for Victoria for comment.
This document links to chapter five of the Water for Victoria plan, which highlights the intention of the Victorian Government to encourage the systematic application of Integrated Water Management (IWM) in Victoria to achieve greater collaboration across organisations and disciplines that influence the water cycle around cities and towns.
The Department of Environment, Land, Water and Planning (DELWP) has worked with sector representatives (including water authorities, local government and the Municipal Association of Victoria) to prepare a framework that outlines how IWM can be systematically applied by organisations throughout Victoria.
The framework considers all elements of the water cycle including effective stormwater management, effective and affordable wastewater systems, a healthy and valued urban landscape and place based planning which reflects community values.
Feedback is encouraged and can be provided to DELWP at iwm.branch@delwp.vic.gov.au by January 13, 2016.