Clearwater Regional Program Summary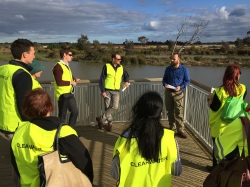 19 December 2018
Clearwater
Clearwater is a leading capacity building program, recognised for its role in providing customer driven programs that equip the water industry with the skills, knowledge and networks to drive the implementation of Integrated Water Management (IWM) practices.

Regional program
In 2016 Clearwater was funded by DELWP to deliver the 3 year Building Capacity for Integrated Water Management (IWM) in Regional Victoria program aimed at increasing participation and uptake of IWM practices in regional Victoria by engaging with water practitioners that directly contribute to the Victorian Government's water plan, Water for Victoria. The IWM Framework shows how we can deliver the Water for Victoria plan through consistent and strategic collaboration within the water sector – including water corporations, local governments and catchment management authorities through state-wide IWM forums.
Clearwater's program placed an emphasis on expanding capacity building activities to regional Victoria (since there are no IWM capacity building programs outside of Metropolitan Melbourne) whilst also supplementing a number of activities in Metro Melbourne to successfully drive and deliver outcomes that contribute to the Victorian government's water plan.
Since its inception, the regional program has engaged with thousands of practitioners all across Victoria. We have delivered close to 80 IWM capacity building activities ranging from practitioner workshops, masterclasses, water leadership scholarships, regional case studies, bus trips, tools, communication materials and much more. The program has been immensely successful in improved IWM capacity in regional Victoria and DELWP have highlighted the importance of the Program to support IWM practices around Victoria and deliver on their Water for Victoria plan.
Feedback received from participants demonstrated a 46% increase in knowledge gained from events delivered. One of the participants from the Great South Coast IWM bus trip reflected that …"the content was interesting and relevant. It's terrific getting to see WSUD done well. The tour was terrific, seeing some successes and failures that the City of Geelong has faced was interesting. The candidness of the presenters was also appreciated"
The program has now come to an end and DELWP have shifted their funding focus to on-ground IWM activity, building on the quality foundations that the Clearwater regional program has laid out.
Keep in touch
Clearwater are currently funded and hosted by Melbourne Water. We welcome you to come to any of our open training events or seminars, however we are not able to service in-house requests located outside of the Melbourne Water boundary at this time.
If you would like to be informed of any future activities in Regional Victoria, please email your name and contact details to info@clearwatervic.com.au.
If you would like to receive updates about policy changes and best available resources and trainings available in the IWM space, simply follow Clearwater on LinkedIn and subscribe to the Clearwater newsletter via the link below.

Interactive map of the regional program deliveries
Below is an interactive map of all the Clearwater regional program deliveries. Click on the icon left of the map title to filter for the different types of deliveries, such as case studies, workshops and bus trips. Zoom in to see more deliveries in your region.
In total, there are 24 regional case studies available in the Clearwater resource library. In addition, the regional program delivered 19 Masterclass sessions, 10 IWM capacity building workshops and 2 bus tours across Victoria.

Useful links
Clearwater Tool for Water Sensitive Urban Design Guidelines
Victorian Rural Drainage Strategy
Planning Amendment VC154: new stormwater management requirements
State Environment Protection Policy (Waters) Review
DELWP IWM Forum Strategic Directions Statements